Tuesday Aug 06, 2019
Embracing Miracle Moments with Lisa LaJoie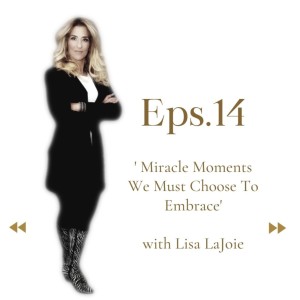 August 2nd was a big miracle day for me. In 1987 on that exact day something miraculous happened; a Spiritual Awakening of sorts that you do not want to miss listening to.
Today, I feel deeply blessed as this is the day my true life started and without it, I would not be where I am today. I am humbly aware that without this one day, no other days would have been as they are.
I thank the Universe for giving me the strength to grab hold this miracle moment in my life and for creating and paving the way for me to face my darkest self and past so that I can fully own who I am today and continue to do so.
Listen in and learn that you always have a chance, you have choices and you have opportunities. You can make changes and understand how you got to the place you are in if you are in pain and you can make new choices about where you want to go.
You can, today, stop seeking what is wrong with you and start seeking what is going on with you.
There is empowerment in taking control of your life. My story is proof of this.
I would be so grateful if you shared this audio with anyone you believe would benefit from hearing it and please, don't forget to share your comments with me.